LEAGUE RULES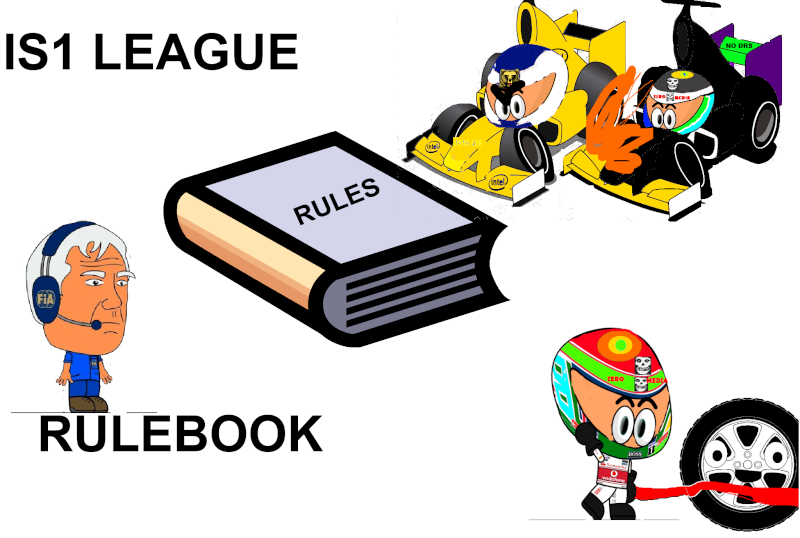 SPORTING BEHAVIOUR
• NO RAMMING
• NO VERY LATE BRAKING WITH CAR IN FRONT
• NO DIVING DOWN THE INSIDE OF SOMEONE WHEN THERE IS NO ROOM
• NO BLOCKING: DRIVERS ARE PERMITTED TO DEFEND THEIR POISITION HOWEVER, DRIVERS SHOULD NOT MOVE OVER MORE THAN TWICE, (THEY ARE ALLOWED TO MOVE ACROSS ONCE AND THEN RETURN TO THE RACING LINE).
• ALLOW FASTER TRAFFIC THROUGH IF YOU SEE BLUE FLAG (OR ADMIN SAYS) MOVE OFF THE RACING LINE WHILE DOING SO AND SLOW DOWN.
• NO RACIST MESSAGES IN CHAT
• NO SPAM IN CHAT
• NO CONSTANT COMPLAINING/ARGUING IN CHAT E.G "YAAWN I'M BORED" OR "FUUUCK I CRASHED"
• NO HACKING
• LISTEN TO THE ADMIN, NO GOING AGAINST WHAT HE/SHE SAYS
CHAT
• NO RACIST MESSAGES IN CHAT
• NO SPAM IN CHAT
• NO CONSTANT COMPLAINING/ARGUING IN CHAT E.G "YAAWN I'M BORED" OR "FUUUCK I CRASHED"
• ONE SENTENCE PER 10 SECONDS
• REFRAIN FROM USING CHAT IN  QUALI OR RACE
• IF SOMETHING IS NEEDED SIMPLY ASK IN ONE FULL SENTENCE RATHER THAN 20 LITTLE ONES
• NO ARGUING
• NO DISOBEYING ORDERS FROM AN ADMIN
SLOWER TRAFFIC
• NO HOLDING UP CARS A LAP AHEAD
• SLOW DOWN AS YOU MOVE OUT OF THE WAY (IF YOU ARE CLOSE ENOUGH TO RACE THEM BACK THEN YOU AREN'T SLOWING ENOUGH
SETUPS
YOU CAN EDIT ANYTHING IN THE .INI OR CONFIG FILES THAT ARE IN THE GARAGE SECTION OF THE GAME, ANYTHING THAT CANNOT BE EDITED THERE CANNOT BE EDITED IN A CONFIG OR INI FILE (WHATEVER THEY ARE LOL)
SETUPS FROM INTERNET ARE GENERALLY PERMITTED HOWEVER THE USE OF SETUPS THAT MAKE THE CAR INVULNERABLE, 100 TIMES FASTER ETC ARE BANNED
QUALIFYING
• NO CUTTING CORNERS OR USING SHORTCUTS TO GAIN AN ADVANTAGE
• NO USING ANY HACKING TO EDIT THE GRID OR TO INCREASE SPEED DURING
QUALI
• NO HOLIDNG UP CARS ON TIMED LAPS IF YOU HAVE JUST COME OUT OF PITS ON AN OUTLAP
• NO LEAVING PITS UNTIL IT IS CLEAR IN THE FIRST FEW CORNERS AND THERE ARE NO CARS ON FLYING LAP
•       DRIVERS MUST HAVE ENOUGH FUEL TO COMPLETE QUALIFYING, FAILURE TO DO SO WILL RESULT IN STARTING FROM THE PITS
FORMATION LAP
• NO PLAY FIGHTING, MESSING ABOUT
• LINE UP ON THE GRID AND STAY CLOSE TO THE REST OF THE FIELD, NO WAITING BEHIND SO THAT THE OTHERS TYRES GET COLD
• STAY IN ORDER (PREFERABLE)
• KEEP A DECENT PACE
• NO SUDDEN BRAKING, SMOKE FROM TYRES CAN BLOCK SOME DRIVER'S VISION
• CREATE A GOOD DISTANCE AND MAINTAIN IT BETWEEN THE CARS IN FRONT OR BEHIND (IF ANY)
• NO MESSING ABOUT WHILE PARKING IN GRID SLOT
RACE START:
THERE IS PLENTY OF TIME IN THE RACE TO OVERTAKE, NO MAKING VERY DESPERATE MOVES.
OVERTAKING
• IF A CAR IS ATTEMPTING TO OVERTAKE, YOU MUST ALLOW SOME FORM OF ROOM, NO SUDDENLY TURNING IN ON THEM.
• NO CUTTING A CORNER  OR CHICANE IN ORDER TO PASS SOMEONE
• IF YOU ARE FORCED OFF THE TRACK BUT PASS SOMEONE, GIVE THE POSITION BACK (AS LONG AS THEY DIDN'T PUSH OFF DELIBERATELY).
• NO SHOVING/RAMMING  OFF TRACK
• NO LUNGING BACK FROM A DISTANCE OF MORE THAN 2 CAR LENGTHS (ROUGHLY DEPENDS ON TRACK).
•
SAFETY CAR
• NO OVERTAKING STAY IN ORDER
• KEEP A DECENT PACE
• NO SUDDEN BRAKING
FORMATION SHOULD FOLLOW LIKE THIS
1ST PLACE (LEFT SIDE OF TRACK)
                                                              2ND PLACE (RIGHT SIDE OF TRACK)
3RD PLACE LEFT SIDE OF TRACK)
ETC
STAY IN THIS FORMATION IN ORDER TO REDUCE THE RISKS OF A PILE UP
• BRAKE WARMING IS PERMITTED, AS LONG AS YOU ARE IN THAT FORMATION AND THERE IS A GOOD GAP BETWEEN CARS IN FRONT AND BEHIND (WARN THE DRIVERS IN CHAT)
AI CONTROL:
FOR SOME RACES, IF A DRIVER, USUALLY SOMEONE WITH A KEYBOARD HAS TROUBLE STARTING A RACE THEY MAY USE IT FOR THE FIRST 5 SECONDS OR CORNER ONLY (DECIDED BY ADMIN)
AI CONTROL MAY BE PERMITTED IF DAMAGE HAS BEEN DONE DUE TO SOMETHING SUCH AS A PC ISSUE AND YOU NEED TO RETURN TO PITS ASK ADMIN!
YELLOW FLAGS
IF YELLOW FLAGS ARE WAVED:
• REDUCE SPEED
• BE PREPARED TO MOVE FROM RACING LINE IF THERE IS DEBRIS OR STRANDED VEHICLE
• NO OVERTAKING!
*IF FULL COURSE YELLOW SEE SAFETY CAR SECTION
PENALTIES AND WARNINGS
• 3 WARNINGS ARE PERMITTED (MAY BE LESS IF THERE IS SERIOUS INCIDENT)
• PENALTIES (TO BE DECIDED BY ADMIN)
CRASH INTO POTENTIAL WINNER: TIME PENALTY
INCIDENT AFTER 3 WARNINGS ONE RACE BAN
RACIST COMMENT ONE RACE BAN
DISOBEYING ADMIN: 1 WARNING AND POSSIBLE TIME OR GRID PENALTY
[list]